P/O Tom F.(Ginger) Niel flew with No 249 Squadron during the Battle of Britain. He was awarded the D.F.C. in October 1940.
F/O William Henry Nelson an American in the R.C.A.F. and was listed as Canadian joined No 74 Squadron on the 20th of July 1940. He had won a D.F.C in France flying bombers. He flew Spitfires during the Battle of Britain.
P/O George H.Nelson-Edwards of No 79 Squadron wrote of his Hurricane I (N2345) on the 31st of August 1940 at 09:30hrs. He crashed after combat near to Biggin Hill. On the 29th of September 1940 he baled out after combat with a He 111 at 18:30hrs off the West Coast. He was rescued.
F/O A.D.Nesbitt a Canadian of No 1 (R.C.A.F.) Squadron destroyed a Bf 110 on the 4th of September 1940 and a Bf 109 on the 15th of September 1940. His Hurricane I (P3080) was shot down this day by a Bf 109 over Tunbridge at 12:10hrs. He baled out wounded. Nesbitt was back in combat on the 9th of October 1940, his Hurricane was badly damaged by a Bf 109 but he landed safely, unhurt. In March 1941 he took command of the re-numbered No 401 Squadron. He was awarded the D.F.C. on the 23rd of September 1941.
Sgt W.J.Neville joined No 610 Squadron on the 27th of July 1940. Neville force-landed in a marsh on the 8th of August 1940, overturning his aircraft, but he escaped unhurt. Following a patrol off Calais in his Spitfire I (R6630) on the 11th of August 1940 he was reported M.I.A. aged 26.
F/O M.(Mike) A.Newling of No 145 Squadron destroyed two aircraft in fighting over Dunkirk. M.A.Newling destroyed a He 111 on the 19th of July 1940 but was hit by return fire and force-landed his aircraft on an emergency strip. M.A.Newling was awarded the D.F.C. on the 4th of February 1941. M.A.Newling was K.I.A. in a Spitfire Va (W3366) near Lille, France on the 6th of July 1941.
Sgt Harry S.Newton of No 111 Squadron crash landed his Hurricane I (P3548) on the 11th of August 1940 near Boyton in Oxfordshire, he ran out of fuel after combat. His aircraft was a write off but he survived. He baled out of his burning Hurricane I (P3943) safely on the 18th of August 1940 during an attack on a Do 17 of KG 76 near Kenley, at 13:15hrs. He landed landed near Tatsfield Beacon in Surrey.
Sgt D.B.F.Nicholls of No 151 Squadron landed safely after his Hurricane X (P5182) was damaged in battle with a Ju 88 over the North Sea at 07:30hrs on the 30th of September 1940.
Sgt D.H.Nicholls of No 56 Squadron was injured when he baled out of his Hurricane I (P3154) over Yeovil after combat at 16:00hrs on the 7th of October 1940. His aircraft crashed at Alton Pancras, Somerset.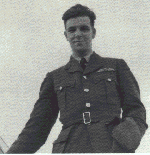 F/Lt James Nicholson, a Yorkshire man was Fighter Command's only VC, he had won his award flying with No 249 Squadron over Southampton

Flight Lieutenant J B Nicholson for an action on August the 16th, 1940. On that day, Nicholson in his Hurricane (P3576) with two other pilots from No 249 Squadron, attacked enemy Messerschmitt 110's near Southampton. The three RAF planes were in turn attacked by Bf 109's: From the London Gazette, the 15th of November 1940'During an engagement with the enemy near Southampton on August 16, 1940, Flight Lieutenant Nicholson's aircraft was hit by four cannon shells, two of which wounded him whilst another set fire to the gravity tank. When about to abandon his aircraft owing to flames in the cockpit, he sighted an enemy fighter. This he attacked and shot down although as a result of staying in his burning aircraft, he sustained serious burns to his hands, face, neck and legs.
Flight Lieutenant Nicholson has always displayed enthusiasm for air fighting and this incident shows that he possesses courage and determination of a high order by continuing to engage the enemy after he had been wounded and his aircraft set on fire. He displayed exceptional gallantry and disregard for the safety of his own life.'

After recovering from his severe burns and other injuries (other injuries included being shot in the buttock's by a trigger happy Local Defence Volunteer as he descended in his parachute), Nicholson returned to flying in April 1941 as a Squadron Leader.
Tragically, he went missing while flying as a passenger in a Liberator over the Bay of Bengal on the 2nd of May 1945.
Sgt D.Noble joined No 43 Squadron on the 3rd of August 1940. D.Noble shot down a Ju 87 on the 16th of August. Sgt D Noble was K.I.A. on the 30th of August 1940. His Hurricane I (P3179) was shot down by a Bf 109 over the Sussex coast, near to Hove at 11:50hrs. He was aged 20.

[His body was recovered and buried in East Retford Cemetery. However, in July 1996, a wartime Hurricane crash-site was excavated, the pilot's remains were found and positively identified as being those of Sgt Noble. This raised the question of who was actually buried in his grave. No further information given in the newspaper report].
F/O B.Nokes-Cooper of No 236 Squadron was killed on the 1st of August 1940 along with the pilot (P.E.Drew) of the Blenheim IV (N3601) during an attack on Querqueville, France at 17:15hrs.
Sgt R.N.Norfolk of No 72 Squadron crash landed his Spitfire I (K9938) on the 2nd of September 1940 at 13:00hrs. He was in combat over Herne Bay.
Sgt P.P.Norris of No 213 Squadron was shot down an killed on the 13th of August 1940 in his Hurricane I (P3348). He was shot down off Portland at 16:50hrs and is buried at Etaples, France. He was 22 years old.
F/O S.C.Norris of No 610 Squadron destroyed a Bf 109 over Dunkirk on the 29th of May 1940. Destroyed two Bf 109's on the 25th of July, plus two Ju 87's on the 14th of August and two more Bf 109's before the end of August. Norris was awarded the D.F.C. on the 24th of September 1940 and a Bar on the 23rd of May 1944.
F/O Harold L.North from No 43 Squadron a New Zealander shot down four aircraft during the month of August in his Hurricane.
On the 26th of August 1940 North made a head-on attack on a formation of six bombers and he was nearly hit as he broke away by some of the bombs being jettisoned into the sea. He returned to the attack and, after two bursts, saw his He 111 begin to smoke, its undercarriage dropped and as at least one of the crew baled out the bomber dived away. At this point North's Hurricane (V7259) was hit by a cannon shell, splinters of which went into his shoulder, and his vision was impaired by pieces of perspex from his shattered hood. Recovering from the shock, he wiped his face and checked his aircraft, looking up he saw three He 111's passing overhead. He turned and used his remaining ammunition on the rear most of the three. North last saw it diving steeply inland with one engine smoking - it was later confirmed as destroyed. His Hurricane (V7259) was now hit again and he baled out. After landing he was taken to hospital in Chichester.
North added two more to his score after the Battle of Britain.
North was reported M.I.A. on the 1st of May 1942.
F/O North was awarded the D.F.C. on the 15th of June 1942.
Sgt. D.J.North-Bomford was with No 17 Squadron flying Hurricane's during the Battle of Britain. On the 18th of August 1940 his Hurricane I was damaged in combat with Bf 109's off Dover at 13:50hrs.
Sgt J.K.Norwell of No 54 Squadron destroyed two Bf 109's over Dunkirk in May. Norwell scored another kill before the Battle and four more during it. He was awarded the A.F.C. on the 1st of January 1945.
P/O Tadeusz Nowak from Poland flew Hurricane's with No 253 Squadron during the Battle of Britain. his tally of kills was 4 confirmed 1 shared kill 1 probable and 1 damaged. He was promoted to flying officer.
Sgt. Eugeniusz J.A.Nowakiewicz from Poland flew Hurricane's with No 302 Squadron during the Battle of Britain. His score stood at 4 kills 2 shared 1 probable and 1 damaged. He attained the rank of Flying officer.
F/O T.Nowierski from Poland of No 609 Squadron was saved when he baled out of his Spitfire I (N3223) over Sailsbury Plain after undercarriage failure on the 5th of October 1940 at 18:15hrs.