The Vickers Supermarine Spitfire
---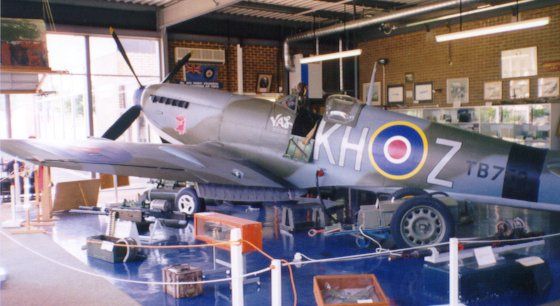 Designer Designer : R.J.Mitchell
---
Type: Single Seat Fighter
Description : Low Wing Monoplane
---
Wingspan : 36 feet 10 inches ( 11.23m )
Length : 29 feet 11 inches ( 9.12m )
Height (max): 11 feet 5 inches ( 3.48m )
Wing Area : 242 sq feet ( 22.48m2 )
---
Weight empty : 4332 lb ( 1965 kg )
Weight loaded : 5750 ( 2609 kg )
---

Power Plant : Rolls Royce Merlin II V12 liquid cooled
piston engine
B.H.P. :1030 hp
---
Armament : 8 fixed wing mounted 0.303 Browning
Machine guns
---
Performance
Maximum speed : 362 mph
Initial Climb rate : 2,300 ft per min ( 700 m per min )
Ceiling : 31,900 ft
Range : 395 miles
---
First Flight : 5 March 1936
Service Entry : 4th of August 1938
---

SQUADRONS THAT WERE ALLOCATED THE SPITFIRE
Deliveries of production Spitfire I's began in June 1938, two years after the first production contract had been placed . In those two years Supermarine laid out their Woolston factory for large-scale production and organized one of the largest subcontract schemes ever envisaged in Britain. Until that time, as it was becoming increasingly obvious that there was no limit to the likely demand for the Spitfire. It was also obvious that one factory alone was not going to be able to meet the demand even with sub-contracting. Large scale plans were laid during 1937 for the construction by the Nuffield Group of a large new shadow factory at Castle Bromwich near Birmingham for Spitfire production. On April 12,1938 a contract was placed for 1,000 Spitfires to be built at this new factory, of which the actual construction had not then even begun. In the following year, on April 29 further contracts were placed with Supermarine for 200 Spitfires and on August 9 for 450. When Britain went to war on September 3,1939 a total of 2,160 Spitfires were already on order.
Structurally the Spitfire was a straightforward design with a light alloy monocoque fuselage and a single spar wing with stressed skin covering and fabric covered control surfaces. The Spitfire was adapted from Reginald Mitchell's aesthetically pleasing 1925 F.7/30 design. To preserve the clean nose cowling lines originally conceived by Mitchell, the radiator was located beneath the starboard wing with the smaller oil cooler causing some asymmetry beneath the port wing, and the carburetor air intake under the centre fuselage. A De Havilland wooden fixed pitch propeller was employed by the prototype and the first Spitfire I's had the Airscrew Company's wooden fixed pitch. Later a De Havilland three blade, two position propeller was adopted after trials on the first prototype. The new propeller gave a 5 mph increase in speed. In 1940 De Havilland three blade constant speed propeller were substituted. Production Spitfires had a fixed tail wheel and triple ejector exhaust manifolds. The X80 HP Rolls Royce Merlin II and later the Merlin III engine was installed.
The Spitfire I weighed 5,280 lb. had a wing loading of 24 lb.'s. ft. and a fuel capacity of 85 Imperial gallons. Its maximum speed was 362 mph its maximum diving speed was 450 mph its initial climb rate was 2,500 ft./min. and it took 9.4 minutes to climb to 20,000 feet. Its combat range was 395 miles and its roll rate was 140 deg./sec. Standard armament in what was subsequently to become known as the A wing was eight 0.303-in Browning machine-guns with 300 rounds of ammunition. The speed of the Spitfire I was marginally higher than that of its principal opponent the Luftwaffe's Messerschmitt Bf 109E and it was infinitely more maneuverable than the German fighter although the Bf 109E could out climb and out dive the British fighter and its sheltering cannon had a longer range than the Spitfire's machine-guns.
The 1,175 h.p. Merlin XII was adopted as the standard power plant in the Type 329 Spitfire II with a Rotol three blade propeller and 73 lb. of amour protection but this variant was otherwise similar to the Spitfire I. Deliveries commenced in 1940 the Spitfire II having followed the Mark I on the production lines and becoming the first major production variant to be delivered from Castle Bromwich.
---