---
Messerschmitt Bf 109 E - 4
---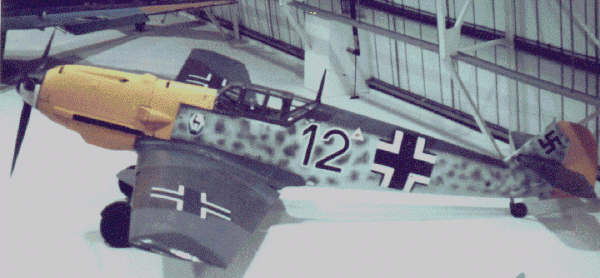 ---

Type: Single Seat Fighter
Description : Low Wing Monoplane
Designer: W. Messerschmitt

---
Wingspan : 32 feet 4.5 inches ( 9.87 m )
Length : 28 feet 4.25 inches ( 8.66 m )
Height (max): 8 feet 2.5 inches ( 2.5 m )
Wing Area : 242 sq feet ( 22.48m2 )
---
Weight empty : 4,856 lb ( 2010 kg )
Weight loaded : 5,532 ( 2506 kg )
---
Power Plant : Daimler Benz DB601A 12 cylinder liquid cooled engine
B.H.P. :1050 bhp
---
Armament : Machine guns
---
Performance
Maximum speed : 387 mph ( 623 kph ) at 18,000ft ( 5610 m )
Initial Climb rate : 2,300 ft per min ( 700 m per min )
Ceiling : 36,000 ft (10,950 m )
Range : 575 miles ( 925 km )
---
First Flight : 5 March 1936 ( Prototype )
Service Entry : 4 August 1938
---

MESSERSCHMITT Me. 109 single-seat fighters of the Luftwaffe, are built by the Bayerische Flugzeugwerke A.G., of Augsberg, Bavaria. It is armed with one 20 mm. (.906 in.) cannon fixed to fire through the hub of the VDM controllable-pitch airscrew, two 7.7 mm. (.312 in.) machine-guns in troughs on top of the cowling, and two more in the wings outboard of the airscrew disc. The Me. 109 has four machine-guns and one cannon, compared with the eight 7.6 mm. (.303 in.) machine-guns in the Spitfires or Hurricanes.
The 1,150 h.p. Daimler-Benz DB. 601 is a 12-cylinder inverted V, liquid cooled, of 33.9 litres (2,069 cu. ins.) swept volume. It is rated at 3,750 m. (12,300 ft.). It drives a V.D.M. controllable-pitch airscrew, electrically operated This airscrew has a hollow hub so that the shell-gun can fire through it. Two 7.7 mm. (.312 in.) belt-feed machine-guns are mounted in troughs on top of the cowling. An oil tank is set behind the motor immediately in front of the dashboard. The enclosed cover hinges on the starboard side and has sliding panels. The pilot has a rear view mirror. The tail unit is adjustable and the fixed surfaces have metal covering and the movable surfaces fabric.
The cantilever undercarriage retracts outwards into the wings in which the wheels fill the whole space between the spar and leading-edge. The wheels are raked forwards and outwards to prevent swinging. The tail wheel was made to retract in the early versions but this was not found to he worth the extra complication and it is now fixed.
---