Sgt F.A.P.Head of No 236 Squadron was killed on the 1st of August 1940 along with the pilot of the Blenheim IV (N3601) (B.M.McDonough) during an attack on Querqueville, France at 17:15hrs.
Sgt D.A.Helcke of No 504 Squadron, lost his life when he baled out after losing control of his Hurricane I after a dummy attack on his aircraft by R.A.F. fighters over Faversham, on the 17th of September 1940, at 16:00hrs. D.A.Helcke hit his aircraft's tail whilst baling out and fell dead.
P/O J.A.'Paddy' Hemingway an Irishman of No 85 Squadron was one of the survivors from the Battle for France. He was on patrol on the 18th of August 1940. He baled out of his Hurricane I (V7249) safely after combat off Southend. He was attacked by a Bf 110 of ZG 26 while attacking a He 111, at 17:45hrs. He was picked up by boat from a lightship after landing in the sea.
P/O B. de Hemptinne a Belgian joined No 145 Squadron on the 17th of August 1940. He shot down a He 111 on the 2nd of October 1940 while on patrol over a Naval Convoy. The He 111 landed on a beach South of Aberdeen with the crew unhurt and they were made P.O.W's.
P/O J.A.M.Henderson of No 257 Squadron was wounded on the 31st of August 1940 at 09:00hrs. His Hurricane I (V6601) was in combat with a Bf 110 over Clackton. He baled out with burns.
Lt. Zdzislaw Henneberg from Poland flew Hurricane's with No 303 Squadron during the Battle of Britain. The Squadron was based at Northolt during August and September 1940 and he flew Hurricane No V6605 'YO-N. On the 5th of October 1940 he shot down a Bf 110 whilst flying Hurricane No V6684. He is credited with 8 kills 2 shared and 1 probable.
Sgt B.Henson joined No 32 Squadron on the 2nd of July 1940. Henson shot down two bombers during the Battle of Britain. On the 18th of August 1940 he was wounded by return fire from a Do 17 when he attacked it in his Hurricane I (V6536). Henson was shot down and killed by Adolf Galland ten miles east of Harwich on the 17th of November 1940.
Sgt H.M.T.Heron joined No 266 Squadron in early July 1940 and moved to No 66 Squadron in September 1940, with whom he scored a single victory. After leaving No 66 he spent the rest of the war as an instructor. Heron was awarded the A.F.C. on the 7th of September 1945.
P/O A.Hess, a Czech. pilot of No 310 Squadron was on patrol on the 15th of September 1940 when he baled out of his Hurricane I (R4085) safely over the Thames Estuary, at 14:45hrs. The aircraft crashed south of Billericay, in Essex.
P/O Duncan Alexander Hewitt a Canadian from No 501 Squadron was shot down and killed on the 12th of July 1940 in a Hurricane (P3084) while attacking a Dornier Do 17 off Portland at 15:45hrs.
P/O N.B.Heywood of No 257 Squadron was K.I.A. on the 22nd of October 1940. His Hurricane I (R4195) was hit by A.A. fire during a combat with Bf 109's over Folkestone at 16:45hrs. The aircraft crashed South of Lidd in Kent.
Sgt W.B.Higgins joined No 32 Squadron on the 2nd of July 1940 and scored his first success, a Do 17, on the 3rd of July. Higgins scored four more victories, all fighters. Higgins also flew with No 253 Squadron and was shot down in a Hurricane X (P5184) and killed near Faversham, Kent on the 14th of September 1940, aged 26.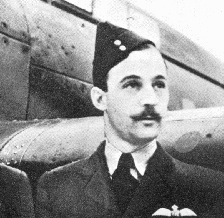 Sgt Fredrick William 'Taffy' Higginson joined the R.A.F. as an apprentice aged 15 and after 3 years was posted to a Bomber Squadron where he became an air gunner. He later qualified as a Sergeant pilot and joined No 56 Squadron. He went to France with "B" Flight, where during their brief campaign he destroyed four aircraft. Higginson added another in the early stage of the Battle and was awarded the D.F.M. on the 30th of July 1940. Between the 12th of August and the 30th of September he accounted for a further nine enemy aircraft. He force landed a Hurricane I (P3547) on the 16th of August 1940 at 17:15 after sustaining damage from the return fire of a Dornier Do 17. On the 18th of August 1940 his Hurricane I was damaged in combat off the Essex coast at 17:30. He was shot down over France in June 1941, he eventually made his way back to England, rejoining No 56 Squadron in October 1942. Higginson was awarded the D.F.C. on the 9th of February 1943.
He was later made up to a Wing Commander.
P/O T.P.K.Higgs from No 111 Squadron was on patrol in a Hurricane I (P3671) off Folkestone when he collided with a Dornier Do17 on the 10th of July 1940 at 13:00hrs. Higgs baled out but was drowned. T.P.K.Higgs was buried at Voordwilk,The Netherlands.
P/O C.H.Hight a New Zealander flew with No 234 Squadron. On the 15th of August 1940 at 18:15hrs he crashed near Bournmouth after combat in his Spitfire I (R6988). C.H.Hight perished in the crash.
Sgt C.G.Hilken of No 74 Squadron was wounded on the 20th of October 1940. He baled out of his Spitfire II (P7426) after combat with a Bf 109 over South London at 15:00hrs. He became a P.O.W. on the 27th of June 1941 when he was shot down over St Omer.
Sgt G.Hill from No 65 Squadron escaped injury when his Spitfire I was shot down on the 24th of August 1940 off Margate at 15:35hrs.
P/O Howard Perry Hill was born in Christchurch, New Zealand on 17 April 1920, and attended Marlborough College from 1932 to 1936 before leaving to work as a clerk in Blenheim. In 1938 he obtained a short service commission in the RAF, and sailed from Auckland in mid-December. After completing his training he was posted to No 92 Squadron on the 24th of October 1939 to fly twin-engined Blenheim's which were exchanged for Spitfire I's in March of 1940. The Squadron moved from Croydon to Duxford later in the month to fly patrols over the Dunkirk beaches. It continued sorties over the French coast until mid-June, when it moved to Pembrey in South Wales for a rest. Whilst on convoy patrol on 26 July 1940, Hill shared in the destruction of a Ju 88. On the 8th of September 1940 the Squadron moved to Biggin Hill to take part in the Battle of Britain. On the 15th of September 1940 a formation of Do 17 bombers was engaged over the Thames Estuary, Hill shot three of them down. On the 18th of September 1940 Hill's section of four Spitfire I's attacked a force of twenty Ju 88's. The German formation split up and Hill chased one through cloud and out to sea. He expended all his ammunition during the chase but his final burst stopped both engines and he watched the enemy aircraft ditch in the sea, seven miles off the coast. Hill then directed a rescue launch to the scene and the crew were picked up. On the 19th of September 1940 Hill claimed the probable destruction of a Bf 109. On the 20th of September 1940 he was one of the ten squadron pilots to take off from Biggin Hill to join up with Spitfire's of No 41 Squadron to patrol over Gravesend at 5000 feet. The rendezvous was not made and No 92 Squadron climbed to 20,000 feet to be vectored south to 27,000 feet. North of Dungeness the Spitfire's were attacked from above and behind by a force of Bf 109's. A warning from No 92 Squadron's leader was too late to prevent the rear section being attacked. Hill's Spitfire I (X4417) was one of the first hit and he went down in flames to crash into high trees at West Hongham in Kent. The aircraft lodged high in the branches and was not discovered until a month later. Hill was the victim of one of the Luftwaffe's leading aces, Werner Mölders from JG 51.
P/O Richard H.Hillary from No 603 Squadron was shot down by a Bf 109 on the 29th of August 1940 at 19:00hrs. He crash landed his Spitfire I (L1021) at Lympne but he was unhurt. R.H.Hillary was wounded on the 3rd of September 1940 in combat with Bf 109's of JG 26 off Margate at 10:04hrs. He was rescued by the Margate lifeboat but was severely burned. Hillary recovered from his wounds and returned to combat but sadly died later flying at night. He wrote a book, 'The Last Enemy' which is one of the best to come from the Second World War.
F/Lt Harold B.L.Hillcoat from No 1 Squadron was killed on the 3rd of September 1940. His Hurricane I (P3044) was lost in action at 11:30hrs over Kent.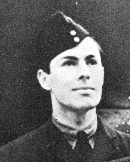 Sgt Peter Hillwood from No 56 Squadron destroyed a Ju 87 in the early stage of the Battle. On the 13th of August 1940 he was shot down over the Channel in a Hurricane(R4093) at 16:20 hrs. He baled out safely over Sheppy and swam two miles to shore. Hillwood was awarded the D.F.C. on the 24th of November 1944.
Sgt M.H.E.Hine of No 65 Squadron was shot down in combat with a Ju 88 near Selsey on the 12th of December 1940 at 14:20hrs. He was flying in Spitfire No R6982.
Sgt J.Hlavac a Czech from No 56 Squadron died on the 10th of October 1940. His Hurricane I (P3421) was shot down by a Bf 109 over Wareham at 12:20hrs.