P/O Eugene Quimby 'Red' Tobin a lanky American from Los Angeles had signed originally to fight for Finland against Russia, but arrived in Europe too late for that war. After a spell in France, they came to England on the last ship from the port of St Jean-de-Luz and joined the RAF. He was sent to No 609 Squadron on the 8th of August1940 and they became operational on the 16th of August 1940 and on his first patrol encountered the enemy. Gene Tobin was from Los Angeles, and he learned to fly in the late thirties, paying for his lessons by working as a guide and messenger at the MGM Studios in Hollywood. He saw combat during August - September, before transferring on the 18th of September 1940 to the to help form the No 71 'Eagle' Squadron at Kirton-in-Lindsey, Lincolnshire. E.Q. "Red" Tobin crashed into a hillside near Boulogne in combat with some Bf 109's and killed on September 7 1941, on No 71 Squadron's first sweep over France. He was 24 years old and is buried in Boulogne Eastern Cemetery, France.
P/O F.A.Toombs from No 264 Squadron was killed along with P/O W.R.A.Knocker when the engine of their Defiant I (N1547) cut out on the15th of November 1940. They hit a tree on landing and the aircraft exploded near Rochford.
F/O J.Topolnicki from Poland of No 601 Squadron was wounded on the 6th of September 1940 at 09:30hrs. He baled out of his Hurricane I (P3382) over Mayfield after combat with a Bf 109.
P/O W.Tower-Perkins of No 238 Squadron was wounded on the 11th of September 1940 at 16:10hrs. He baled out of his Hurricane I (P3096) with burns after combat with a Ju 88 near to Tunbridge Wells.
S/L Peter Townsend was the commander of No 85 Squadron at Martlesham. On the 11th of July 1940 P.Townsend was at the controls of his Hurricane VY-K (P2716) intercepted Dornier Do 17M from Kanalkampffuhrer Fink's Geschwader, H/KG 2, the 'Holzhammer' Gruppe. P.Townsend was a peace time pilot, a flyer of great skill and experience. His eight Browning machine guns raked the bomber. Townsend had put 220 bullets into the Dornier but it got home to Arras, and all the crew lived to count the bullet holes. Townsend's machine-gun bullets failed to shoot down his Dornier but one of its machine guns hit his Hurricane's coolant system. The engine stopped when still twenty miles from the English coast. Townsend baled out and was fished out of the sea by a trawler. He was mentioned in dispatches that day and was flying again in the evening. On the 31st of August at 13:00hrs Townsend in his Hurricane (P3166 'Q') was shot down by a Bf 110 over Tunbridge. He baled out and was wounded in the foot, his wounds were dressed at a Cottage Hospital and he was transferred to Croydon General Hospital. The nose cap of a cannon shell was removed from his left foot and his big toe was amputated. He returned to his Squadron on the 21st of September and flew again that day doing aerobatics. He then reported to the M.O. who told him he would not fly for some time. Townsend promptly told him that he just had!
F/Lt. Owen V.Tracey was born in Dunedin New Zealand on the 15th of March 1915, and was educated in Auckland and Oamaru before becoming a store hand with Wright Stephenson in Dunedin. Tracey obtained his pilot's licence at the Otago Aero Club early in 1937, after having applied twice for an R.A.F. short service commission and been turned down because of educational standards. After coaching by a local headmaster Tracey applied again, this time successfully, and sailed from Lyttelton in June 1939. Having completed his flying training he was posted to No 79 Squadron in early July 1940 to fly Hurricane's. On the 15th of August 1940 Tracey destroyed a He III which was on its way on its way to bomb Newcastle. The squadron went South to Biggin Hill ten days later. On the 28th of August 1940 Tracey was in in action, having attacked a Dornier head-on, causing it to go down with an engine on fire, he realized his own aircraft was damaged and headed for base. As he landed German bombers arrived overhead. Tracey attempted to take off again but his Hurricane was thrown about and badly damaged by flying metal and debris from bursting bombs. He also claimed the probable destruction of a He III and damaged a Bf 109 on this day. By the end of September 1940 Tracey had destroyed two more bombers and probably two others. An award of the D.F.C. was made on the 6th of October 1942 with effect from 7 December 1941. The citation credited him with six enemy aircraft destroyed and many more probably destroyed.
P/O Richard 'Dick' Trousdale was born in the Old Mission House, Waimate North, New Zealand on January the 23rd 1921. He completed his training soon after the outbreak of war, he was then posted to No 266 Squadron. on the 6th of November 1939 when it was still intended to fly Fairey Battles No 266 Squadron covered the Dunkirk beaches and on the 2nd of June 1940 and Trousdale probably destroyed a Bf 110. By the end of the Battle of Britain he had shot down two Bf 109's and probably a third and shared in the destruction of a Do 215. After the Battle Trousdale became a night fighter pilot, flying Defiant's, destroying a He 111 on the 10th of February 1941 and two He 111's on the 9th of May. Trousdale was awarded the D.F.C. on the 4th of March 1941 and a Bar on the 8th of May 1942. He was killed in a flying accident on the 16th of May 1947.
F/O Alex Albert Gray Trueman a Canadian flew Hurricane with No 253 Squadron during the Battle of Britain. He was shot down and killed over Kenley in a Hurricanes I (V6638) on the 4th of September 1940.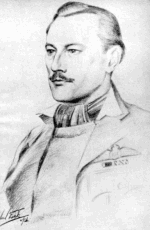 F/L Bob Stanford Tuck D.S.O., D.F.C. RAF no 37306 flew with No 92 Spitfire Squadron and No 257 Hurricane Squadron and shot down 10 of the enemy during the Battle. He was 24 years old during the Battle.
Tuck was on patrol on the 18th of August 1940 with No 92 Squadron. He baled out safely after combat with a Ju 88, at 14:15hrs. His Spitfire I (N3040) crashed near Horsmonden, Kent
On the 25th August 1940 Tuck was wounded in the leg when he force landed his Spitfire I (N3268) after combat with a Do 215 over St. Gowans Head, Pembroke, at 18:20hrs.
On the 21st June 1941 Squadron Leader Tuck of No 257 Squadron, flying a Hurricane II (Z3152) was shot down by a Bf 109. He was rescued from the North Sea by a coal barge.

His Story is well written by Larry Forester in the book Fly for your life.

He passed away on 5/5/87, aged 70.
On the 12th of August 1940 F/O A.B.Tucker of No 151 Squadron was shot down by Bf 109's and crashed his Hurricane I (P3302) into the sea. He was rescued with back wounds and admitted to hospital.
Sgt R.Y.Tucker of No 235 Squadron, the pilot R.L.Patterson and L.H.M.Reece failed to return from a convoy patrol in a Blenheim IV (N3541) the 18th of July 1940.
F/L D.R.Turley-George joined No 54 Squadron on the 15th of July 1940. He was hot down twice by Bf 109's during the Battle, the first time was on the 25th of July 1940 when he crash landed his Spitfire I (P9387) near Dover after combat with Bf 109's at 15:00hrs. The second time on the 12th of August when he was wounded in the head and eye. He was grounded for over a year as a result of his injuries. He was awarded the D.F.C. on the 30th of October 1944.
F/Lt D.E.Turner of No 238 Squadron was shot down and killed in his Hurricane I (P3823) by Bf 109's on the 8th of August 1940 at 12:45hrs South of the Isle of Wight.
F/Sgt G.Turner in a Hurricane (P3144) from No 32 Squadron was in combat with a Bf 109 over Dover on the 19th of July at 16:25hrs . He baled out but was badly burned. The aircraft crashed at Hougham.
Sgt R.C.Turner of No 264 Squadron and his pilot P/O D.Whitley were killed on the 28th of August 1940 at 08:55hrs. Their Defiant I (N1574) was shot down by a Bf 109 of JG 26 over Thanet.
P/O Percival Stanley 'Stan' Turner was English and emigrated to Canada. He joined the R.A.F. before 1939 and he flew with No 242 Hurricane Squadron during the Battle of Britain. On the 25th of May Turner shot down three Me 109's over Dunkirk and at the end of the war his score was at least 14 Kills. Turner was promoted to Group Captain. D.S.O , D.F.C. and Bar the Czech War Cross and the Czech Medal for Valour.