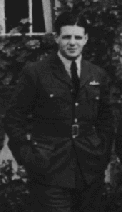 F/O Kenneth William Tait was born in Wellington, New Zealand on the 19th of November 1918 and attended Wellington College from 1933 to 1936. In April 1937 Tait applied for a short service commission in the RAF and sailed from Auckland in late September for flying training in the UK. Having qualified, he was posted to No 87 Squadron on the 20th of August 1938. Their Gladiator biplane fighters were then being replaced by Hurricanes before moving to France at the outbreak of war as part of the Air Component of the British Expeditionary Force where he definitely shared in destroying a Ju 88 on May 20 1940.
On the 15th of August 1940 his Squadron was scrambled to intercept a large force of bombers with a fighter escort moving towards Portland. In the ensuing battle Tait shot down a Bf 110 and damaged two others. Ten days later, in a late afternoon action, he destroyed a Bf 110 and a Bf 109.
He was awarded the D.F.C. in early February 1941, having by then been credited with six enemy aircraft destroyed. He received a Mention in Dispatches in March.
K.W.Tait disappeared without trace on 4 August 1941. It is believed that he was detailed to attack German E-boats and was shot down while doing so.
P/O J.M.Talman of No 213 Squadron was in combat on the 28th of September 1940 at15:10hrs. His Hurricane I was shot down by a Bf 110 over Bembridge on the Isle of Wight. He was rescued unhurt.
P/O Hugh Norman Tamblyn a Canadian flew with No 242 Squadron in Hurricane's and No 141Squadron in Defiant's during the Battle of Britain. He was awarded the D.F.C. on the 7th of January 1941.
F/Sgt J.H.Tanner of No 610 Squadron was a pre-war airman pilot. He was killed during a patrol off Calais when his Spitfire I (R6918) was shot down on the 11th of August 1940 at 11:30hrs. Tanner was aged 25 and he is buried at Calais Southern, France.
F/O D.M.Taylor from No 64 Squadron was wounded on the 17th of July 1940 when his Spitfire (P9507) was shot down by an Bf 109 from JG 2at 14:00 hrs. He crash landed the airplane at Hailsham.
Sgt R.N.Taylor joined No 601 Squadron flying in Hurricane's on the 7th of August 1940. Taylor scored his first victory on the 18th of August and two more during the Battle of Britain. He baled out of his Hurricane(P3735) on the 31st of August 1940 at 13:30hrs. He had been in combat with a Bf 109 over Gravesend. Taylor was awarded the D.F.M. on the 29th of July 1941and the D.F.C. on the 15th of December 1942 for shooting down a Foke-Wulf 200 Condor as a "Hurricat" pilot in 1942. In 1943 he became a test pilot.
Sgt F.J.Tearle of No 600 Squadron was an Air Gunner during the Battle, he later retrained as a Radio Observer and teamed with P/O R.A.Miller. They both received the D.F.C. on the 19th of February 1943, credited with destroying four enemy aircraft.
F/Sgt Phill H.Tew of No 54 Squadron shot down a Bf 110 over Dunkirk in May. On the 8th of August 1940 Tew accounted for a Bf 109 and a Bf 110. P.H.Tew was awarded the A.F.C. on the 10th of June 1948.
F/O James Tillet (RAF No 33454) of No 238 Squadron was shot down and killed in his Hurricane (V6814) on the 6th of November 1940 by a BF 109 over Fareham.

A small but poignant stone memorial to him is at a junction of two minor roads at SU5865 0795 (near M27 junction 10 ). The memorial bears just his name, serial number, Squadron number and date of birth and records that he died close by.

P/O C.R.D.Thomas from No 236 Squadron along with his crew member H.D.B.Elsdon in a Blenheim (L6779) were shot down and killed over Le Harve by a Bf 109 from JG 2 at 12:15hrs on the 18th of July 1940. They were on a photo reconnaissance mission.
P/O R.C.Thomas of No 235 Squadron was shot down over the Channel and killed along with the pilot P/O J.C.Kirkpatrick and gunner Sgt G.E.Keel on the 9th of October 1940 at 17:30hrs. They were flying aerodrome protection duty South of Thorny Island in a Blenheim IVf (N3530).
F/Lt James AndersonThomson of No 302 Polish Squadron was injured on the 29th of October 1940 when he baled out after colliding with a Hurricane over Brooklands. He was slightly injured right at the end of the Battle
S/L John 'Tommy' Thompson was with No 111 Squadron flying in Hurricane's during the Battle. He was scrambled from Hawkinge on the 16th of August 1940 at around 12:00hrs to intercept the Dorniers of Kg 76 which were heading for West Malling.
F/O R.A.Thompson of No 72 Squadron was wounded on the 1st of September 1940. He baled out of his Spitfire I over Hythe after combat with a Bf 109 at 11:30hrs.
Sgt W.W.Thompson of No 234 Squadron crash landed his Spitfire I (P9365) at St Eval on the 31st of July 1940 at 01:00hrs while on night patrol . He was unhurt.
Sgt Edward Rowland Thorn and his Gunner F.J.Barker of No 264 Squadron shot down 3 Bf 109's and a Bf 110 on the 28th of May 1940. On May the 29th they shot down 2, Ju 87's and a He 111 on the 31st. They were both promoted to Flight Sergeant and awarded the D.F.M. for their actions. On the 24th of August 1940 they shot down a Ju 88. They were both injured on the 26th of August 1940 after shooting down 2 Do 17's and a Bf 109 that was attacking them, they crash landed the battle damaged Defiant I (L7005) near Chislet at 12:10hrs. Thorn later went on to commanded No 169 Squadron and earned a D.S.O. and a D.F.C.
Sgt P.Thorpe of No 145 Squadron was injured when he baled out of his Hurricane I (P3896) over Coghurst on the 12th of October 1940 at 10:20hrs after combat with a Bf 109 near Hastings.