S/L Joe S.O'Brien of No 234 Squadron was killed on the 7th of September 1940 at 18:30hrs. He was shot down in his Spitfire I (P9466) attacking some Dornier Do 17's over Kent.
Sgt. P.O'Bryne of No 501 Squadron crashed his Hurricane I (V7595) near Leatherhead on the 29th of October 1940. He got out safely.
P/O J.R.S.Oelofse a South African joined No 43 Squadron in February 1940. J.R.S.Oelofse was K.I.A. in combat ten miles south of the Isle of Wight on the 8th of August 1940 in a Hurricane I (P3468), aged 23.
P/O Jean,(Pyker) Henri, Marie, Offenberg D.F.C. was born at Laeken, Belgium on the 3rd of July 1916. Before the Battle of Britain he flew with the Belgian Air Force in a Fiat CR23. He and his friend (A.Jottard) went on to France when Belgium was over-run, then when the French signed the Armistice they headed for North Africa. They were then smuggled to from Casablanca to Gibraltar with some Polish Pilots. He joined No 145 Squadron in B flight at Drem on the 17th of August 1940. He was moved to No 609 Squadron and flew with them during the Second World War.
Alfred Keith 'Skeets' Ogilvie was born in Ottawa, Canada on September 14th 1915. He was granted a short-service commission on August 11th 1939. He arrived at Middle Wallop on the 20th August 1940 was posted to No 609 Squadron as a replacement for Mac D Goodwin. He opened his Battle of Britain account by destroying an Me 109 and claiming the probable destruction of an Me 110 on the 7th September 1940 although his Spitfire I (N3280) also suffered some damage in this combat and he returned to base with a damaged tail unit. On the 15th of September he shared in the downing of the Dornier Do 17 with Sgt. R.T.Holmes of No 504 Squadron which crashed on Victoria Railway Station. He probably destroyed a Do 17 on the 24th of September. On September the 27th he shot down a Me 110 off Portland.

He was take prisoner on the 4th of July 1941 on Circus 32 escorting 12 Blenheim's who were attacking the Khulman chemical works and the power station at Chocques, three miles west of Bethune. He was shot down by Me 109's and wounded, in the arm and shoulder and baled out, landing in a field. He was awarded the D.F.C. on July 11th 1941.

He retired from the R.C.A.F. on the 14th of September 1962 and he then returned to Ottawa where he lived until passing away in 1998.

For a full and super account account check out Ernie Burtons brilliant site Site: http://members.tripod.co.uk/ErnieBurton/Pilots/Ogilvie_Alfred_Keith
Sgt T.G.Oldfield of No 92 Squadron was killed on the 27th of September 1940 at 15:20hrs. His Spitfire I (R6622) was shot down by a Bf 109 over Dartford.
P/O P.Olver of No 603 Squadron was injured when he baled out of his Spitfire I (P7365) after combat with Bf 109's near Chartham, Kent at 10:15hrs on the 25th of October 1940.
P/O James J. O'meara flew with No 421 flight, No 64 and No 72 Squadron's. He flew Spitfire (P 9554) between the 12th and the 15th of August 1940 and during this time shot down 2 Bf 109's and a JU 88 with 3 He 111's damaged. His score at the end of the war was 11 destroyed, 1 shared, 1 unconfirmed, 4 probables and 11 damaged.
F/O D.H.O'Niell flew with No 611 Squadron and No 41 Squadron. He died on the 11th of October 1940 when his parachute failed to open after bailing out of his Spitfire I (X4052) when he collided with Sgt L.R.Carter in another Spitfire I (X4554) whilst climbing to engage some Bf 109's at 16:25hrs. O'Niel's aircraft crashed near West Kingsdown, Kent.
F/O A.Ostowicz from Poland joined No 145 Squadron on the 16th of July 1940. He shot down a He111 on the 19th of July. He was in combat with enemy fighters on the 11th of August 1940 when he was shot down off Swanage and killed in his Hurricane I (V7294). He was awarded the K.W. and Bar on the 1st of February 1941.
Sgt A.E.Owen of No 600 Squadron who flew through the Battle of Britain in Blenheim's was K.I.A. on the 24th of July 1941, aged 25.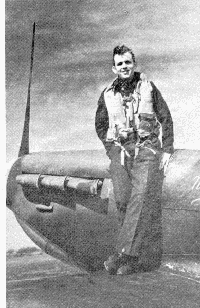 F/O Robert Wardlow 'OXO' Oxspring was on patrol leading a flight from No 66 Squadron on the 25th of October 1940 when they bounced 6 Bf 109's . Oxspring bailed safely out of his blazing Spitfire I (X4170) over Tonbridge after the combat at 09:00hrs. He survived the war and became a Group Captain with a D.F.C. and 2 Bars and the A.F.C.