P/O John Bickerdyke was born in Christchurch, New Zealand on the 11th of February 1919. He was a policeman's son and was educated in Auckland. John joined the N.Z.A.F. in the June of 1939. He joined No 85 Squadron in the April of 1940. On the 12th of July 1940 he shot down a German bomber whilst protecting the 'Booty' Convoy. He died some 10 days later in a flying accident near Debden
P/O C.N.Birch of No 1 Squadron on the 19th of August 1940 crashed when he strayed into a balloon area near Finsbury Park in his Hurricane I (P3684).He baled out safely and his aircraft crashed off Oxfordness.
P/O Harold A.C.Bird-Wilson of No 17 Squadron was slightly wounded on the 24th of September 1940 at 09:55hrs. He baled out of his Hurricane I (P3878) at Chatham after combat with a Bf 109 (Adolph Galland) of JG 26.
Sgt H.E.Black flew with No 257 Squadron, No 32 Squadron and No 46 Hurricane Squadron. He was on patrol on the 29th of October 1940 when he was shot down by a Bf 109 near Ashford, Kent. He died of his wounds on the 9th of November 1940.
S/L George Douglas M.Blackwood was the leader of No 310 Squadron (Czech) flying Hurricane's. He was on patrol on the 26th of August 1940 when he was hit by the return fire from some Dornier Do 17's over Clacton at 15:55hrs. He baled out of his Hurricane I (P3887) unhurt.
F/L K.H.Blair served in France with No 85 Squadron. He destroyed two He 111's on the 10th of May 1940 and was awarded the D.F.C. on the 31st of May 1940. Blair scored five more victories with No 151 Squadron during the Battle of Britain.
In 1943 he took command of No 613 Squadron wich had become a Mosquito unit and specialized in precision daylight attacks. At the end of his tour K.H.Blair received the Bar to his D.F.C.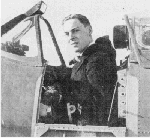 Sub/Lt A.G.Blake of No 19 Squadron was killed on the 29th of October 1940 when his Spitfire II (P7423) crashed near Chelmsford, Essex after an encounter with a Messerschmitt Me 109 at 17:15hrs.
The son of a country schoolmaster, Mindon Vaughn 'Mindy' Blake was born at Eketahuna, New Zealand on February 13 1913. Academically gifted, he graduated from Canterbury University in 1934 with an MSC (Hons) in mathematics. His academic excellence was coupled with great sporting prowess and a very inventive turn of mind. Having become New Zealand pole vault champion in 1936, he went on to take RAF titles in the sport both before and after the war. Having completed his training in October 1937 Blake joined No 17 Squadron, equipped with Gauntlet biplane fighters. He became a flight commander in June 1938 as the Squadron began to receive its first Hurricane's. On 8 September 1939 Blake had a lucky escape when his engine cut after he had overshot his airfield making a night landing. In complete darkness he slowed the Hurricane to stalling speed at 300 feet, hit the chimney of Purley Hospital and crashed on to the foundations of the new nurses' home. He escaped with eighteen stitches in his scalp. The cause of the engine seizure was hay in the air intake and a modification by Rolls Royce subsequently prevented further occurrences of this problem. In April 1940 he was posted as an instructor but in the August took command of No 238 Squadron then moved on to command No 234 Squadron in late September. During the Battle of Britain Blake destroyed three enemy aircraft and shared another. In late November he shot down a Do 17 and shared another leading to the award of the D.F.C.
M.V.Blake stayed on in the RAF until his retirement in 1958. He continued to live in England until his death there in November 1981.
P/O J.W.Bland of No 501 Squadron was shot down and killed on the 18th of August 1940 at 13:35hrs in a Hurricane I (P3208). He was one of four Hurricane's from the Squadron shot down over Canterbury by Gerhard Schöpfel of III Gruppe of JG 26 flying a Bf 109.
F/O H.Peter (Cowboy) Blatchford a Canadian served with No 17 Squadron & No 257 Squadron's flying Hurricane's during the Battle of Britain.
P/O D.H.Blomeley from No 151 Squadron shot down a Bf 110 over Dunkirk in May. Later in the war flew night-intruder Mosquitos and was awarded the D.F.C. on 26 of October 1943, being credited with four enemy aircraft destroyed at that time. After the war received the A.F.C. on the 10th of June 1954.
Sgt E.Bloor of No 46 Squadron was injured on the 3rd of September 1940 at 10:45hrs. He baled out of his Hurricane I (P3063) with slight burns over Canewdon near to Foulness.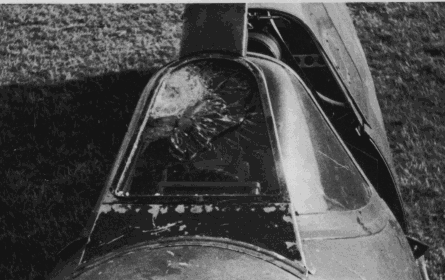 P/O C.A. (Bogle)Bodie of No 66 Squadron was in combat and had to force-land his Spitfire I ( X4321) by Barnhurst Lane, Hawkinge at 12:30hrs on the 7th of September 1940 .He had his toughened windshield put to the test during a head on confrontation with a Messerschmitt BF 109 over Tenterden on the 5th of October 1940.
F/Lt Derek B.P.A.Boitel-Gill of No 152 Squadron landed his Spitfire I (K9954) at Cherbourg after combat with a Bf 109 over Portland on the 15th of August 1940. He was uninjured but his Spitfire I was a write off.
Sgt H.A.Bolton from No 79 Squadron crashed while attempting to land his battle damaged Hurricane I (V7200) at Kenley on the 31st of August 1940 at 16:00hrs. He was killed.
P/O Amille Robespirre Bon Signeur a Canadian of No 257 Squadron was killed on the 3rd of September 1940 at 10:45hrs. He baled out of his Hurricane I (P3518) but was killed after combat over Ingatestone, Essex.
Sgt G.B.Booth served with No 85 Squadron and was shot down on September the 1st 1940. He baled out of his Hurricane I (L2071) with his parachute ablaze at 14:15hrs and was badly wounded. His aircraft was severely damaged by a cannon shell and he baled out near Purley. His parachute was partially damaged which caused him do descend too rapidly. He was taken to Purley Hospital with a fractured leg, arm and vertebrae to the spine.
He died from his wounds on the 7th of February 1941
P/O J.F.Boulton flew Hurricane's with No 310 Squadron and Spitfire's with No 603 Squadron. He was killed on the 9th of September 1940 at 17:35hrs. His Hurricane I (P3888) collided with a Hurricane I (R4084) (flown by G.L.Sinclair) and then into a Do 17 whilst in combat over Croydon.
Flt/Lt C.E.Bowen of No 607 Squadron baled out of his Hurricane I (P5205) safely on the 26th of September 1940 over Kaylthorpe, Isle Of Wight at 16:20hrs. C.E.Bowen was K.I.A. on the 1st of October 1940. His Hurricane I (V6686) was shot down by a Bf 110 over the Isle of Wight at 10:50hrs.
P/O N.G.Bowen of No 266 Squadron destroyed a Bf 109 over Dunkirk in June, and a Ju 88 on the 12th of August 1940. N.G.Bowen was shot down and killed in his Spitfire I (N3095) by Bf 109's at Adisham, Kent on the 16th of August 1940, at 12:45hrs. He was aged 20.
On the 30th of September F/O A.D.M.Boyd flew No 600 Squadron's first patrol with a Beaufighter. He became a successful night fighter, teaming up with P/O A.J.Glegg to shoot down ten enemy aircraft at night. A.D.M.Boyd was awarded the D.F.C. on the 9th of January 1942 and the D.S.O on the 3rd of March 1944.
In ten days of action over France, Adrian Hope Boyd of No 145 Hurricane Squadron accounted for 8 enemy aircraft. For this he received the D.F.C. on the 21st of June 1940. He added two more to his score during the early stage of the Battle before destroying two Bf 109's, two Bf 110's, and a Ju 87 all on the 8th of August . A.H.Boyd was promoted to Squadron Leader when S/L John Peel was wounded on the 8th of August 1940. He destroyed another three aircraft during the Battle, including a He 111 on the 23rd of August 1940 over the Firth, 10 miles from Edinburgh and one at night. Boyd was awarded Bar to the D.F.C. on the 20th of August 1940 and the D.S.O. on the 2nd of December 1941.
F/Lt. Robert Findley Boyd flew with No 602 Squadron from the outbreak of the War and through the Battle of Britain. He sot down a total of 9 with 6 shared (6 being Bf 109's with 2 Ju 87's and a Do 17.)
F/O J.G.Boyle from No 41 Squadron was K.I.A. on the 28th 0f September 1940. He was shot down in his Spitfire I X4426 over Charing, Kent at around 10:30hrs.