Sgt George 'Grumpy' Unwin flew with No 19 Squadron and was one of the first pilots to fly the Spitfire I in 1938. He fought in the Battle of Britain and shot down 14 enemy aircraft during the War. He later became a Wing Commander. His dogs name is 'Flash'.
P/O H.C.Upton joined No 43 Squadron in February. Upton shot down a He 111 on July the 12th. Upton claimed 2 Ju 87's on the 8th of August. He added 9 more kills to his score during the Battle. Upton was awarded the D.F.C. on the 29th of April 1941.


F/O Witor Urbanowicz was a pre-war member of the Polish Air Force, he joined No 145 Squadron on the 4th of August 1940 and shot down a Bf 110 on the 8th. He destroyed a Ju 88 on the 12th and was posted to No 303 (Polish) Squadron on the 21st. On the 15th of September 1940 he was flying Hurricane No V6684 and shot down 2 Do 17's from KG 2. Hefinished the Battle with 14 kills.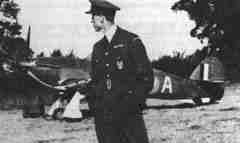 F/O W.Urbanowicz was awarded VM (5th Class) on the 23rd of December 1940 and KW and three Bars on the 1st of February 1941 and the D.F.C. on the 30th of October 1941. Later in the war he was attached to the USAAF in China and downed two Japanese aircraft there, receiving the Air Medal (US) on the 25th of September 1944 and the Chinese Flying Cross.
Sgt Frank Usmar of No 41 Squadron was wounded on the 27th of September 1940 at 12:15hrs. He baled out of his Spitfire I (R6884) after combat over West Malling with a Bf 109. His parents watched him bale out near their home without realising who he was.