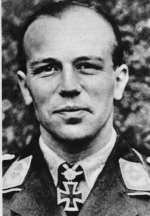 Major Helmut Wick was born in 1915. He was a very successful pilot during the first year of the war. He was only surpassed by Moulders and Galland. He had a tally of 56 victories with an award in October 1940 of the Knights Cross with Oakleaves. He was Kommodore of JG 2 (Richthofen).
On the 11th of August 1940 at 10:22hrs in a Bf 109 he shot down P/O J.R.Cock from No 87 Squadron in his Hurricane I (V7233) off Portland Bill.
H.Wick was killed in action over the Channel on the 28th of November 1940 he was shot down by J.C.Dundas flying a Spitfire I (X4586). Wick's wing man then the shot down and killed J.C.Dundas.